I-Land anno 2022 - Fascicolo 1 - The Emotional Valence of Innovation and Changes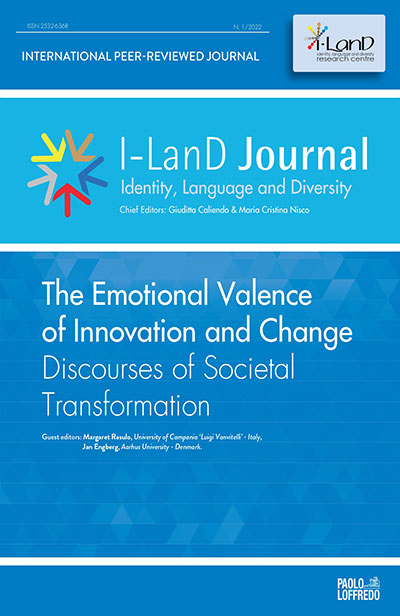 Descrizione
Indice e abstract
Codici DOI

I-Land - anno 2022 - Fascicolo 1
The Emotional Valence of Innovation and Changes
Discourses of Societal Transformation

Periodicità: semestrale
Indirizzo di posta elettronica della rivista: Questo indirizzo email è protetto dagli spambots. È necessario abilitare JavaScript per vederlo.
L'I-LanD Journal è stato incluso dall'ANVUR tra le riviste scientifiche per l'Area 10 (con approvazione retroattiva dal 2017).
La rivista scientifica Identity, Language and Diversity Journal raccoglie contributi originali di studiosi che, animati da un comune interesse per questioni relative a identità, lingua e diversità, esplorano nuovi percorsi critici e teorici con approfondimenti puntuali ed aggiornati.
In quanto organo ufficiale del Centro interuniversitario di ricerca I-LanD (http://www.unior.it/ateneo/14038/1/i-land-research-centre.html), la rivista trae beneficio dalla caratteristica peculiare del Centro che fonde in un'unica struttura competenze e conoscenze interdisciplinari. Rappresenta, pertanto, lo strumento ideale per dare visibilità alla ricerca svolta in molteplici realtà accademiche a livello nazionale ed internazionale, con l'obiettivo di contribuire alla divulgazione, al consolidamento degli studi e all'avanzamento della riflessione scientifica sul rapporto tra lingua e identità etnica e culturale, lingua e identità sessuale e/o di genere, nonché su forme di variazione linguistica derivanti da contaminazioni/ibridazioni di generi, discorsi e tipologie testuali.
I-LanD Journal è stato recentemente inserito nel Norwegian Register for Scientific Journals, Series and Publishers dal National Board of Scholarly Publishing e dal Norwegian Centre for Research Data che opera per conto del Ministero dell'Istruzione e della Ricerca in Norvegia.
Per abbonamento ed acquisto di singoli fascicoli:
Versamento sul conto corrente postale 1027258399 intestato a Paolo Loffredo Editore Srl.
Oppure bonifico su Banco Posta Spa IBAN IT 42 G 07601 03400 001027258399 intestato a Paolo Loffredo Editore Srl
BIC /SWIFT BPPIITRR (per bonifico da estero).
CHIEF EDITORS
Giuditta Caliendo (University of Lille)
Maria Cristina Nisco (University of Naples Parthenope)
ADVISORY BOARD
Giuseppe Balirano (University of Naples "L'Orientale")
Marina Bondi (University of Modena and Reggio Emilia)
Ruth Breeze (Universidad de Navarra)
Delia Chiaro (University of Bologna)
David Katan (University of Salento)
Don Kulick (Uppsala University)
Tommaso Milani (University of Gothenburg)
Oriana Palusci (University of Naples "L'Orientale")
Alan Scott Partington (University of Bologna)
Paul Sambre (University of Leuven)
Srikant Sarangi (Aalborg University)
Christina Schäffner (Professor Emerita at Aston University)
Vivien Schmidt (Boston University)
Stef Slembrouck (Gent University)
Marina Terkourafi (Leiden University)
Girolamo Tessuto (University of Campania "Luigi Vanvitelli")
Johann Unger (Lancaster University)
MANAGING EDITOR
Maria Cristina Aiezza (University of Naples "L'Orientale")
EDITORIAL ASSISTANTS
Océane Foubert (University of Lille)
Annalisa Raffone (University of Naples "L'Orientale")

INTERNATIONAL COORDINATOR
Catherine Ruchon (Université Sorbonne Paris Nord, Pléiade)
La rivista è disponibile anche in formato digitale su Torrossa.it
---